Doctor of Chiropractic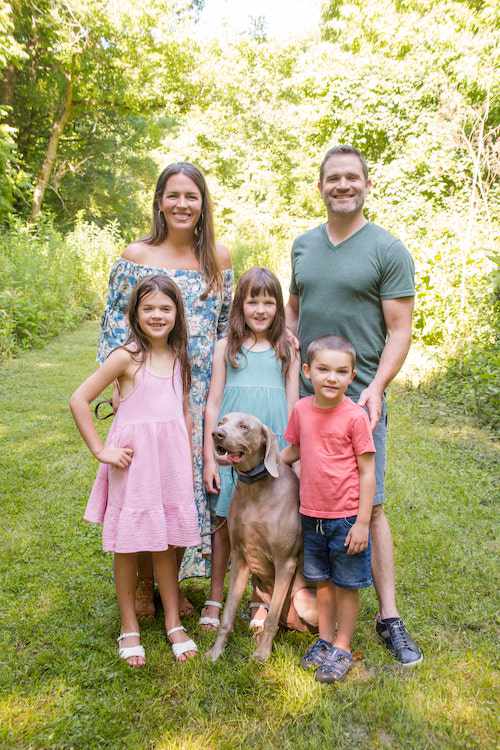 Hello, I'm Pete! I am pictured with my wife, Dina; twin daughters, Viviana and Josephine; son, Leonard; and dog, River.
I opened Thrive Chiropractic in 2008 to provide excellent chiropractic care for adults, children, and families. I enjoy adjusting and teaching the principles of health, healing, and vitality.
In my time away from the office, I like to be outdoors with family and friends. We are often hiking or biking at parks and on trails in the area. I love coaching my kids' sports teams. In recent years, I've enjoyed finding a mix of exercise (strength training, yoga, sprinting, rowing, mobility work) to help my body feel great. I had competitive years as a middle-distance runner (high school and college) and a Crossfit athlete (in my 30's). I enjoy cooking, reading about extraordinary people and health topics, and watching my favorite sports teams.
Our clients are diverse and range from babies to seniors. I utilize a wide variety of techniques including full spine, diversified, drop, Toggle, SOT, activator, extremity, BGI, and Webster to best serve my practice members. As a Webster-certified chiropractor, a big component of our practice is expectant mothers seeking relief from pain, optimal birthing position and balance, and favorable birth outcomes. We help adults with pain, sports injuries and desire to move more comfortably. We assess and adjust babies–often dealing with manifestations of birth strain such as torticollis, head tilt, digestive issues and more.
Inspiring people to live healthy and happy lives is my passion and life's work. Call to let us know how we can help you.
Education
Denison University, B.A. in Sociology/Anthropology, 2001
Life University, Doctor of Chiropractic, 2007
Valedictorian
Certifications
Webster Technique
Memberships
International Chiropractic Pediatric Association
Ohio State Chiropractic Association