Replace Gatorade and Powerade with these healthy sports drink alternatives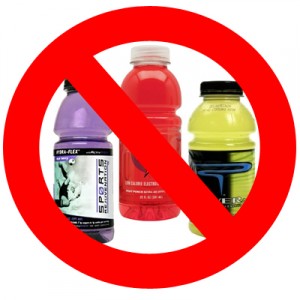 Summer activities and sports cause us to reach for beverages to cool off and rehydrate. Let's take a look at some better alternatives to Gatorade, Powerade, Vitamin Water, 'energy drinks' and so forth.
The problem with these popular drinks is that they contain high amounts of sugar, high fructose corn syrup, artificial sweeteners, preservatives, & synthetic vitamins (which we don't absorb well). The 'energy drinks' are often loaded with stimulants that create an artificially induced energy rush.
Here are some healthy options to replace fluids and electrolytes when you and your family are physically active.
Coconut Water: Young coconuts contain natural water within them that is rich in potassium. It is isotonic with human blood. Coconut water naturally contains sugar, which is OK to replace glycogen stores muscles from physical activity.
Kombucha: This fermented beverage is produced through a large pancake looking SCOBY (Symbiotic Culture of Bacteria and Yeast). This drink is loaded with healthy yeasts, enzymes, electrolytes, bacteria and other microorganisms. You can make kombucha at home or buy locally from Fab Ferments, or at Whole Foods Market.
Fermented Whey Drink: You can actually make this at home, using this easy recipe to create the whey. Add a 1/4 cup of whey to a cup of water and some lemon or lime juice. It is a 5% solution of lactose in water with minerals and lacto-albumin. When the lactose goes through a fermentation cycle, lactic acid, healthy microorganisms & natural enzymes are produced. It is also loaded with potassium and other critical electrolytes. Whey is an abundant source of branched-chain amino acids (BCAA`s) and sulfur containing amino acids. BCAA's are used to fuel, build and repair muscles and joints. It is also rich in the sulfur containing amino acid cysteine. Cysteine is a critical agent used to make the super intracellular anti-oxidant glutathione.
The fermentation process produces natural acids that mellow the typical elevation in blood sugar levels and enhance the nutrient availability within the drink. Fermented beverages contain accessible B vitamins and electrolytes.
For more ideas, you may also like to check out
Mark Sisson's article
with some other creative and healthy drinks on his blog.
Recipe of the Month: Homemade Natural Energy and Sports Drink
This refreshing
drink
is super simple to make and very inexpensive compared to store-bought alternatives . Experiment with different flavors and enjoy the varieties!
Ingredients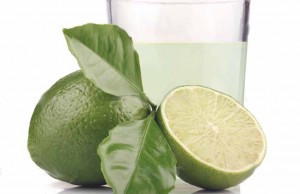 1 quart of liquid (options: green tea, herbal teas, coconut water, plain water, etc)
1/4 tsp Himalayan Sea Salt (sea salt contains beneficial trace minerals)
1/4 to 1/2 tsp calcium magnesium powder (Optional)
1/4 cup or more of juice (Optional) Can use grape, apple, lemon, lime, pineapple, etc...
1-2 TBSP sweetener (optional)- can use honey, stevia, etc. I suggest brewing stevia leaf into the base liquid for the most natural option.
Directions
Brew tea if using or slightly warm base liquid
Add sea salt and calcium magnesium (if using it)
Add juice and mix or shake well
Cool and store in fridge until ready to use
Thrive Chiropractic Center is now Hiring

You all know my assistant, Mija Speakman. She has been with working with me for over two years and has done a great job. The good news is, she is also doing excellent in her program at Cincinnati State and will be getting her degree next year. The bad news is, we'll have to say goodbye to her at Thrive as her study and class hours will require more of her attention in the coming months.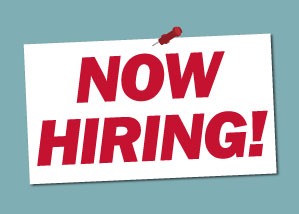 With that being said, I'm in the process of looking for an individual who is friendly, outgoing, detail-oriented, and health-conscious to become the next Thrive Chiropractic Assistant. I would ideally like for this person to be able to work about 25 hours a week with potential to work more depending on their experience level and if they're willing to take on more responsibilities. I would like to find a person whom could be part of the practice for a long time. Pay rate for the position is negotiable based on experience and ability.

I am reaching out to my clients and people who receive my e-newsletters to see if you know anyone that would be a great fit for the practice.

Thank you for any suggestions you may have, and feel free to forward this email and spread the word. I would prefer potential candidates contact me via email (This email address is being protected from spambots. You need JavaScript enabled to view it.) rather than by phone. Thanks again!

Research Studies & Medical journals: Can we really believe the findings anymore?



It is often difficult to know whom and what to trust in regards to medical, nutritional and pharmaceutical advice. Our culture has long held scientific, peer-reviewed studies as the gold standard for efficacy and information.

It turns out this may not be good practice. Former editor of the New England Journal of Medicine, Dr. Marcia Angell, recently said:

"It is simply no longer possible to believe much of the clinical research that is published, or to rely on the judgment of trusted physicians or authoritative medical guidelines. I take no pleasure in this conclusion, which I reached slowly and reluctantly over my two decades as an editor of the New England Journal of Medicine".

This blog post outlines more details from Dr. Angell and others who are frustrated and angry by trends in research. As you might expect, the people doing the studies are often financially rewarded for certain outcomes.

I believe it is great when well designed and executed studies can give us confidence in health procedures, protocols, dietary advice. Unfortunately it is all too common today to have prescription drugs recalled AFTER being studied and approved.

I encourage all of you to be curious, to ask questions, to use common sense, to think about how people lived, ate and attended to their health BEFORE we had so many 'outside-in' rather than 'inside-out' approaches. Look for examples of people in nutrition, exercise, and health that are leaders by example and emulate the things they do; I know this has worked well for me.

We live in a time blessed with excellent trauma-care, emergency, and life saving medical capabilities. If we could combine these technologies with time-tested, healthy lifestyle principles of nutrition, sleep, exercise, optimal nervous system function, and mental/emotional ease, we would enjoy a sharp decline in the degenerative diseases that plague America today. Do your part to be the solution!

Office will be Closed on two days in August

The office will be closed on Friday, August 10th and Saturday, August 11th as I will be attending a conference in Minneapolis-St. Paul.